OSCAS 2020
CHESHIRE celebrated national success in the NatWest Outstanding Service to Cricket Awards (OSCAs) thanks to the efforts of Macclesfield's Miles Horner.
Miles, the current 3rd X1 captain at Victoria Road, was nominated for his innovative podcast "Get it Whacked," which attracted downloads from no fewer than 24 countries. He successfully fended off competition from 38 other counties to take home the top prize in the Proactive Leadership category.
Miles was one of three Cheshire winners in the 2020 OSCAs, with Geoff Nuzum from Runcorn and Toft duo Jimmy Lomas and Ed Stubbs also gaining countywide recognition. Tom Jones from Warrington, and David Hurst of Appleton were also highly commended.
Proactive Leadership – Miles Horner

During the first Covid lockdown and the loss of club cricket, Miles showed great initiative and enthusiasm through the inception of "Get It Whacked" – a new podcast featuring heart warming interviews with some of the characters of the club, past and present. In a four month period Miles produced an astonishing 30 podcasts each of one hour duration.
The podcasts not only kept club members entertained, but also generated interest from wider afield with over 4000 unique downloads from around the globe. As a result, the profile of the club has grown substantially and Miles quickly extended his original remit to include interviews with personalities from outside the club, including local businesses and community groups.
"Once lockdown was announced, I knew there wouldn't be much cricket so I wanted to do something to create a buzz about the club and keep people connected," explained Miles. "Nick Ross, one of our former overseas players, had started to do some short video clips about his teammates at Carlton (nicknames, high scores etc) which seemed like fun, so I guess the idea stemmed from that.
"I have had experience working with live sound before, so the technology was nothing new to me, but it was very time-consuming nonetheless. I took a lot of pride in the editing process and getting the audio quality just right, with some of the podcasts taking up to 10 hours to put together. At the height of lockdown I was doing two per week, so that gives an indication of the amount of time spent, but it was definitely worth it.
"A podcast is only as good as the guests you manage to book, so in that respect I was very fortunate to have an incredible array of people with some fascinating stories to tell. The most enjoyable part of the experience for me was learning about the history of our great club. Things like the merger with our neighbours Parkside and how it all came about were just fascinating to me."
Miles' podcasts were so well received, they not only caught the eye (or ear) of the Cheshire OSCAs panel, but also earned the Macclesfield man first place in the Proactive Leadership category at the National Awards. When he first got the call from ECB however, Miles thought it was a wind up.
"I actually had no idea I had been nominated," he admitted. "When Martin (from ECB) first phoned I thought someone from a rival club wanted to get their own back for some over zealous appealing during the season!
"It was only after I listened to him for a while that I had to apologise, and once he explained fully what the award was for I was genuinely surprised and a little humbled.
"Because I was on the shortlist for the national award, ECB asked to come out and do some filming at the club. I didn't really want it to be about me and I wanted them to focus on the role the club plays within the community – in that respect I thought they did a really good job."
The Get it Whacked Podcasts are set to continue over the next year, generating further interest in the club and increasing the standing of Macclesfield CC in the local community and beyond. Miles innovate approach has been mirrored by other local sports clubs, setting a trend which could benefit many others in the future.
"I would 100% encourage other clubs to do their own podcasts," said Miles. "You don't need to invest in expensive technology, but it really does benefit the club. It can be time consuming, but I'd be happy to chat with any other Cheshire clubs who are looking to branch out into this area and give them a few pointers."
Listen to the Get it Whacked podcast,
Connecting Communities - Ed Stubbs & Jimmy Lomas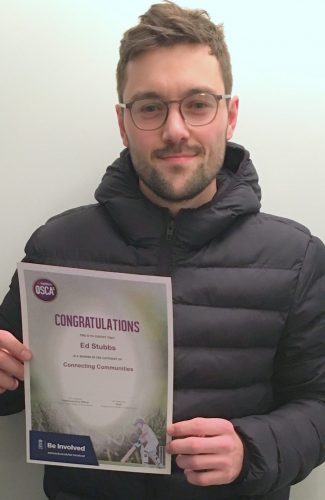 Ed Stubbs and Jimmy Lomas were chosen as winners of the Connecting Communities Award for their fundraising efforts and community engagement at Toft CC. The pair took their previously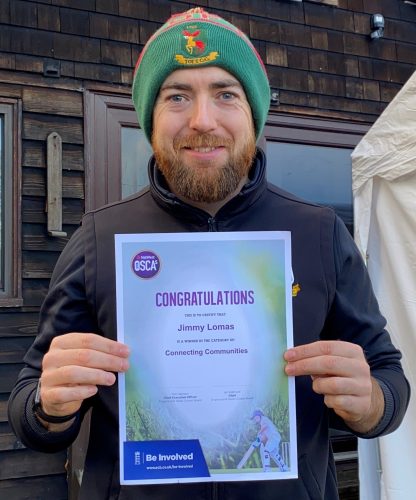 popular clubhouse quiz 'online' during the pandemic, attracting 100 teams and more than 600 people from Knutsford and the wider area, and raising in excess of £2000 for NHS charities in the process.
"We first started the Toft CC quiz back in 2018 when we started to fundraise towards our new pavilion," revealed Ed. "I would devise the questions, and Jimmy was the MC. I would say on average we had around 40 regular quizzers and it seemed to be well received.
"When lockdown first hit we started to think of things we could do, and taking the quiz online was the first thing that sprung to mind. It was an opportunity to keep the pavilion fund going and at the same time raise some money for good causes in the community.
"We already had a large number of volunteers lined up for our NatWest Cricket Force event, which sadly had to be cancelled due to Covid. But it gave us a new audience for the quiz and through other connections we had made locally the numbers really took off. For the first quiz we had around 300 people, but the numbers quickly grew to around 600 – we couldn't believe how popular it was".
Jimmy added: "My job was just to make the quiz as entertaining as possible, which I think I managed by mispronouncing a few words from time to time. On a serious note, Toft is a fantastic community club and this has just helped to raise the profile further."
In addition to his compering skills, Jimmy has a passion for fitness and has been running keep fit sessions at the club through the summer. Alongside Ed, he also spearheaded a fundraising run, which saw club members make the 28.5km journey from Manchester's Nightingale Hospital back to the Toft clubhouse, with the proceeds again being split between club and community.
Jimmy said: "We were planning to do the Three Peaks challenge in June, but we had to call it off until next year. So we decided to switch plans and run from the hospital instead. Quite a few of the guys at the club are runners, and we'd all been doing bits individually during lockdown. In the end we had two groups of four who took on the challenge – it was a great effort by everyone and nice to be welcomed back to the club."
The fundraising run was timed to coincide with another brainchild of Ed and Jimmy's, the 'Toft CC Festival of Cricket'. The event was held in late September to bring together club members young and old, with sessions for All Stars, club juniors, a dads versus lads match and a free taster for women's cricket.
"The idea was to hold one big family day to and we got really lucky with the weather," explained Jimmy.
"Due to the Covid regulations and limits on numbers on the ground we had to split the activity into different sessions, but it worked really well and was a brilliant way to round off the season.
"A real bonus was the number of women who turned out. We had hoped to launch a women's offer earlier in the year and would have been happy with four or five regulars to start with. In the end we had a group of about 20 and they have been coming back every week, no matter what the weather. It's a been a huge plus point and something we will look to develop."
Ed added: "Both Jimmy and I have been at the club since we were about 9 years old and it's a place we both really love. It's been a strange summer but in many ways so many positives have come out of it, both for the club and community. We are already planning for 2021."
Raise the bat award - Geoff Nuzum

The inaugural "Raise the Bat" award went to Runcorn CC's inspirational junior coordinator Geoff Nuzum. Geoff was nominated by his colleagues for his remarkable efforts to galvanise the club this summer, which ultimately led to an increase in membership and the creation of a new ladies team.
When lockdown first hit, Geoff spearheaded a series of projects to keep members connected to the club, including online quizzes and competitions, celebrating players' birthdays on social media and producing some short coaching videos to keep the children engaged. He also managed to secure a new sponsorship deal for the club, which led to a free club training shirt for all Under 9 members.
"Looking back on the summer, in a very compressed period of time I would have to say the 2020 season was a massive success for us," said Geoff.
"Despite the challenges posed by Covid, we managed to launch a new women's section, which grew to more than 20 members who were still engaged in coaching and competition right into October. We also fielded a girls team – the Runcorn Raiders – in league competition for the first time in the club's history. That has certainly been a real plus point and something to build on for next year.
"But it's not just been about the women and girls, it was a brilliant achievement from everyone to get cricket on this year – from the All Stars sessions, right through the age groups and the seniors who played both league and friendly cricket. It's certainly be a team effort that all the volunteers at Runcorn CC can be proud of."
Geoff revealed his initial focus when lockdown was first announced was to keep in touch with all the junior players, in particular the younger members who were just embarking on their playing journey at the club. Sourcing a new club kit to ensure they felt connected was the first priority.
He said: "I spent a lot of time of time looking into kit suppliers, and eventually we went with SM Cricket, who I have to say have been fantastic. With the help of one very generous parent and some other brilliant local sponsors, we were able to provide a free training shirt for our U9s. We delivered each shirt personally and then asked parents to share pictures of the children in their new kit on Facebook. It created a real buzz and a sense of community.
"We also managed to secure some mini bats from SM, which we decided to give away as prizes for an online quiz. We had lots of people waiting to log on at 7pm every week and again it just helped people to stay connected. It was the same with the birthday shout outs for the junior players on Facebook, which proved very popular and is something we are going to continue."
In addition to his own drive and determination, Geoff admits he took inspiration from other clubs and organisations as he moved the pieces of his back to cricket jigsaw into place.
He said: "Some of the stuff we did wasn't necessarily original, but it's good to see what other people are doing and to use that best practice where you can. ECB and Chance to Shine made some great online content which we shared, as did Tom (Jones) over at Warrington with his coaching videos which was really good to see. Our own coaching clips were just very simple drills from the All Stars programme like bat taps and 'clap catch', and it was just another way to use social media to keep the whole family engaged.
"Coming from a military background I am a very motivated person and take a lot of pride in what I do. But ultimately, I love to see other people achieve too, whether that's a player, a parent or even another coach or volunteer. I think everyone in cricket can be proud of how we have battled together to provide opportunities through the pandemic and hopefully next year we can come together for a full season of activity."
Article by Gareth Moorhouse