Coronavirus
Following today's (December 30th) Government announcement regarding updates to the tiered system, Cheshire Cricket Board are required to postpone our Player Pathway courses until further notice. Parents and guardians will receive an email from their child's lead coach shortly.
Cheshire Cricket Board are still seeking clarity from ECB and venue providers as to whether our Coach Development courses (Foundation 1 and UKCC2) can continue as scheduled. Candidates will be notified directly once a decision is made.
The Board would like to take this opportunity to thank all participants for their continued support and patience, and wish everyone connected with Cheshire Cricket and their families the best of health for 2021. We look forward to welcoming you back as soon as it is safe to do so.
Please continue to check the CCB website and social media channels for further updates.
Following the announcement on the return to recreational cricket from July 11th, all players, officials and volunteers have a collective responsibility to maintain a safe environment within their clubs and leagues. This section brings together all the latest Covid-19 guidance and will be updated on a regular basis throughout the ongoing Coronavirus pandemic.
We are currently in Step 4 of the Return to Cricket Roadmap with adapted gameplay and small group training now permitted at all levels. ECB have produced some comprehensive Guidance Notes and some supporting FAQs on the links below to help clubs understand what is required to facilitate a safe return to cricket.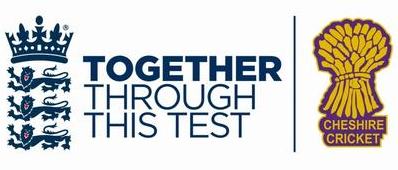 Together Through This Test is a nationwide campaign launched by ECB to shine a light on how the cricket family has reached out to local communities during COVID-19. The campaign highlights some of the unsung heroes from across the professional and recreational game as well as providing updates on, as well as launching new, cricket-led initiatives that the public can get involved in to help support their local community. More than 200 campaigns have been launched nationwide, and here in Cheshire we have seen some fantastic examples of club and community spirit.
Have a Question for Us?