Coronavirus
April 2021 - Following the Government's updated guidance for outdoor organised sports and the further easing of social restrictions in England from April 12th, ECB have updated their guidance for recreational cricket. Clubs should familiarise themselves with the documents below and continue to monitor the ECB COVID-19 website for further updates.
What has changed under Step 2 (12th April)?
The activities permissible through organised outdoor cricket activity remain the same and therefore existing guidance should be followed.
The main changes for cricket relate to outdoor hospitality which is now permissible subject to following government guidance.  The full guidance can be found here.
Whilst spectators are still not permissible, ECB have updated their FAQ's to explain what the exemptions are for parents, guests/patrons using your venue for hospitality purposes and what this means if your ground is located within a public open space. Please ensure you read the FAQ's and full guidance carefully and communicate appropriately to your members, updating your Risk Assessment as appropriate.
Plan for socially distanced matches
Claim your free Covid-19 hygiene bundle
Risk Assessment Templates for Clubs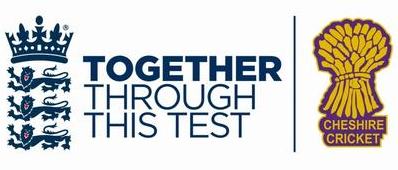 Together Through This Test is a nationwide campaign launched by ECB to shine a light on how the cricket family has reached out to local communities during COVID-19. The campaign highlights some of the unsung heroes from across the professional and recreational game as well as providing updates on, as well as launching new, cricket-led initiatives that the public can get involved in to help support their local community. More than 200 campaigns have been launched nationwide, and here in Cheshire we have seen some fantastic examples of club and community spirit.
Have a Question for Us?