Coronavirus
ECB Bulletin 6 Nov re 1 to 1 Coaching
Q & As by way of clarification of 1 to 1 Coaching
Is a cricket ground classed as a public open space?
No, privately owned cricket clubs are private outdoor spaces (in the same way as golf courses) and therefore not open to the public
Can a club use its nets for 1 to 1 coaching? 
No.  Clubs should not be organising any activity using their facilities including the nets.
Can a self-employed coach use a cricket club for coaching? 
No.  Cricket clubs are considered to be 'private clubs' and therefore should not be used for this kind of activity.
If my club is in a public park, can we use the ground for 1 to 1 coaching?
No.  Cricket clubs should not be allowing or encouraging anyone to use the cricket club facilities for cricket activity.
Can a player under the age of 18 be coached 1 to 1 in a public space?
No.  Coaches should always avoid being 1 to 1 with a player under the age of 18.
Can extra-curricular sessions be run after school?
Yes.  After school clubs are allowed to support enhanced physical activity for children and to offer provide enhanced child care to support working parents
---
From ECB 4 Nov
As a result of the UK Government's new national COVID-19 restrictions, and subject to Members of Parliament voting today and the publication of bespoke guidance from the Department for Digital, Culture, Media & Sport [DCMS], ECB understands all organised recreational cricket activity indoors and outdoors will be suspended from 5th November until 2nd December in England. Professional cricket that is classified as elite by the UK Government can continue as an exemption during this period.
Hospitality venues such as cafes, restaurants, pubs, bars and social clubs must close; with the exception of providing food and drink for takeaway (before 10pm; and not including alcohol), click-and-collect, drive-through or delivery.
The UK Government has confirmed that school sport can continue as an exemption during this period but university sport must be suspended. Coach education programmes can continue where this cannot be undertaken online.
The health and wellbeing of everyone in the cricket community has and remains our number one priority and we are in dialogue with DCMS about how recreational cricket activity can return safely once the national lockdown ends
Cheshire Cricket Board
Following the announcement on the return to recreational cricket from July 11th, all players, officials and volunteers have a collective responsibility to maintain a safe environment within their clubs and leagues. This section brings together all the latest Covid-19 guidance and will be updated on a regular basis throughout the ongoing Coronavirus pandemic.
We are currently in Step 4 of the Return to Cricket Roadmap with adapted gameplay and small group training now permitted at all levels. ECB have produced some comprehensive Guidance Notes and some supporting FAQs on the links below to help clubs understand what is required to facilitate a safe return to cricket.
Ø  Playing Plan Summary (Amended)
Ø  Guidance for Reopening Clubhouses ... Checklist ...Risk Assessment
Ø  Step 4 Coaching Safely (Training)
Ø  Step 4 Coaching Safely (Matches)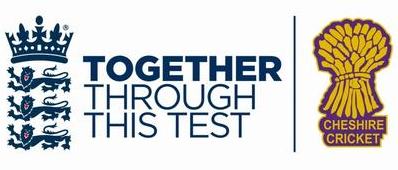 Together Through This Test is a nationwide campaign launched by ECB to shine a light on how the cricket family has reached out to local communities during COVID-19. The campaign highlights some of the unsung heroes from across the professional and recreational game as well as providing updates on, as well as launching new, cricket-led initiatives that the public can get involved in to help support their local community. More than 200 campaigns have been launched nationwide, and here in Cheshire we have seen some fantastic examples of club and community spirit.
Ø  To read our Cheshire case studies click here
Ø  To share your club's Covid-19 story, click here
Have a Question for Us?