Coronavirus
July 2021 – On Monday 19th July, England moved to step four of its roadmap in easing Covid restrictions. This means that almost all legal restrictions of social contact are removed. However, the Government is encouraging people to act with caution. The summary key points of the National Guidelines are:
1. Social distancing (1 m+) rule is removed
2. Group size restrictions indoors and outdoors are removed (including spectator number restrictions)
3. Face coverings are no longer required by law, but are recommended in crowded indoor settings
and may be mandated by some organisations.
4. Remember No Participants = No Game. NHS Test and Trace is still in place and self-isolation of both COVID positive individuals and close contacts remains a requirement. The definition of close contact remains the same, however the rules on self-isolation will be changing from the 16th August.
5. Changing rooms can be used, however participants should use their own judgement and minimise use where possible to avoid close contact in a crowded area for a prolonged time. (see Footnote)
6. Hospitality is permitted without restrictions. (see Footnote)
7. NHS Test and Trace QR codes not required by law but encouraged.
8. Free NHS lateral flow testing is available to clubs and the ECB encourages clubs to take this up.
9. No domestic travel restrictions. Participants should continue to follow Government advice on international travel for any fixtures/ tournaments.
Footnote: Amendments/Clarifications for Cheshire County League and Cheshire League Matches 
---
Plan for socially distanced matches
Risk Assessment Templates for Clubs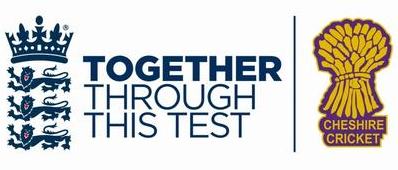 Together Through This Test is a nationwide campaign launched by ECB to shine a light on how the cricket family has reached out to local communities during COVID-19. The campaign highlights some of the unsung heroes from across the professional and recreational game as well as providing updates on, as well as launching new, cricket-led initiatives that the public can get involved in to help support their local community. More than 200 campaigns have been launched nationwide, and here in Cheshire we have seen some fantastic examples of club and community spirit.
Have a Question for Us?