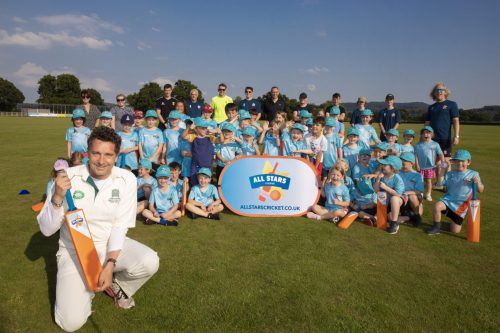 Club's bumper junior cricket sessions get the thumbs up from local MP
A Cheshire cricket club's thriving junior section has had the thumbs-up from sports fan and local MP Edward Timpson.
The cricket-mad Conservative paid a visit to Tattenhall's ground and was impressed by the huge turnout of five- to eight-year-olds for the club's All-Stars.
Though he is a bowler for the All-Party Parliamentary Cricket XI he even unveiled a classy looking cover drive as he joined in with the club's bumper crop of youngsters on a sunny evening at The Flacca.
Tattenhall launched its All-Stars and Dynamos earlier this summer with a £1,000 sponsorship from law firm Swayne Johnson who have an office in the High Street and five more across North Wales.
Club chairman Jon Beddow said he hoped for 40 to 50 youngsters of primary school age and was delighted that they have registered 114 with 72 of them All-Stars and 42 eight to 11-year-old Dynamos.
He added: "It's been a great response from these youngsters who will go on to enjoy cricket here and elsewhere for many years to come.
"This has given them a really good grounding in all aspects of the game and they've had a lot of fun at the same time."
Mr Timpson, who regularly watches T20 matches at Lancashire's Old Trafford ground, said: "I've played cricket since I was little, and there's just such great camaraderie around the sport.
"And it's one of those sports where you've got no choice but to deal with failure – the number of times I've been given out when I was convinced I wasn't and that's maybe why I became a bowler rather than a batsman.
"It's great to see so many youngsters here, and to see so many very, very busy people giving their time to encourage them.
"It all helps to bring a community together, and I'm delighted that they're receiving support from a local business like Swayne Johnson."
Rebecca Robinson, the solicitor who heads the Swayne Johnson team at Tattenhall, said: "The MP saw a feature in the local media about the launch of the junior cricket here and was keen to come and see for himself.
"It's all come together really well and as a firm with a base in the High Street here we've been keen to get involved in the local community and we're delighted to have played a part in the junior cricket.
"I and my family have moved to the village and our four-year-old, Charlie, enjoys being involved with the All-Stars.
"There are so many volunteers that work so hard here, Cheshire Cricket have also been very supportive and it's just brilliant to see so many boys and girls enjoying themselves here."
Anna Comish, PE Lead at Tattenhall Park Primary School, was also a keen observer and she said:" We work at the school with Tom Birch of Cheshire Cricket who is here today and it's so nice to see so many of them here.
"The majority of them are from the village school and we also run a holiday club and have been working with Jon and the club to get cricket sessions for the children.
"It's all about engaging their passion to play cricket from a young age."
Jon Beddow added: "We have great facilities here at the club and we're very grateful to Swayne Johnson for helping us launch this very successful project to encourage youngsters to start playing."
All-Stars and Dynamos cricket has been supported by the England and Wales Cricket Board and the sessions have run for eight weeks.
It's been branded in line with The Hundred, the new national top-level tournament which has just been launched.