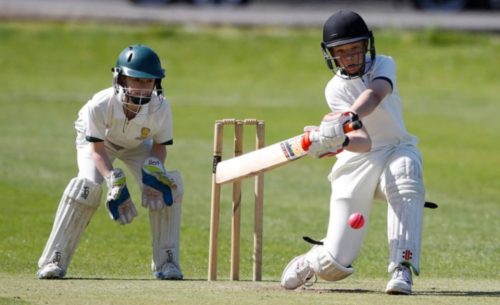 Attendance on our ADVANCED COURSES is by "invitation only" for players who have been recommended by Cheshire Cricket Board coaches, Club coaches or have achieved the Advanced standard in previous years.
Invitations are sent by email early October with a link to this booking page.
THESE COURSES ARE ONLY AVAILABLE TO CHILDREN WHO HAVE RECEIVED A FORMAL INVITATION.
NO SESSIONS OVER CHRISTMAS & NEW YEAR.
PRICE INCLUDES A NEW 5 STAR LEATHER CRICKET BALL.
NB. SOME COURSES MAY ALREADY SHOW EVENT CLOSED i.e. FULL, WHEN YOU REACH THE BOOKING PAGE - THIS IS CORRECT
NORTH CHESHIRE - WARRINGTON
Bridgewater High School (Lower) WA4 5JL
12 weeks
Mondays 19 Oct - 18 Jan (exc 21 & 28 Dec)
5.30pm - 7.25pm
U11 - U13 Yr 8 & below
£176
Bridgewater High School (Lower) WA4 5JL
12 weeks
Mondays 19 Oct - 20 Jan (exc 21 & 28 Dec)
7.35pm - 9.30pm
U14 - U18 Yr 9 & above
£176
MID CHESHIRE
The Grange School, Hartford CW8 1LU
12 weeks
Saturdays 24 Oct - 16 Jan (exc 26 Dec)
1pm - 2.55pm
U11 - U13 Yr 8 & below
£176
The Grange School, Hartford CW8 1LU
12 weeks
Saturdays 24 Oct - 16 Jan (exc 26 Dec)
3.05pm - 4pm (NETS ONLY)
U11 - U13 Yr 8 & below
£98
The Grange School, Hartford CW8 1LU
12 weeks
Saturdays 24 Oct - 16 Jan (exc 26 Dec)
4.05pm - 5pm (NETS ONLY)
U14 - U18 Yr 9 & above
£98
The Grange School, Hartford CW8 1LU
12 weeks
Saturdays 24 Oct - 16 Jan (exc 26 Dec)
5.05pm - 6pm (NETS ONLY)
U14 - U18 Yr 9 & above
£98
The Grange School, Hartford CW8 1LU
12 weeks
Saturdays 24 Oct - 16 Jan (exc 26 Dec)
6.05pm - 7pm (NETS ONLY)
U11 - U13 Yr 8 & below
£98
The Grange School, Hartford CW8 1LU
12 weeks
Wednesdays 21 Oct - 20 Jan (exc 23 & 30 Dec)
6.00pm - 7.55pm
GIRLS U11 - U18
£176
The Grange School, Hartford CW8 1LU
12 weeks
Wednesdays 21 Oct - 20 Jan (exc 23 & 30 Dec)
8.05pm - 10pm
U14 - U18 Yr 8 & above
£176
SOUTH CHESHIRE
Brine Leas High School, Nantwich CW5 7DY
12 weeks
Tuesdays 20 Oct - 19 Jan (exc 22 & 29 Dec)
5.40pm - 6.35pm (NETS ONLY)
U11 - U13 Yr 8 & below
£98
Brine Leas High School, Nantwich CW5 7DY
12 weeks
Tuesdays 20 Oct - 19 Jan (exc 22 & 29 Dec)
6.40pm - 7.35pm (NETS ONLY)
U11 - U13 Yr 8 & below
£98
Brine Leas High School, Nantwich CW5 7DY
12 weeks
Tuesdays 20 Oct - 19 Jan (exc 22 & 29 Dec)
7.40pm - 8.35pm (NETS ONLY)
U14 - U18 Yr 8 & above
£98
Brine Leas High School, Nantwich CW5 7DY
12 weeks
Tuesdays 20 Oct - 19 Jan (exc 22 & 29 Dec)
8.40pm - 9.35pm (NETS ONLY)
U14 - U18 Yr 8 & above
£98
EAST CHESHIRE
Wilmslow High School SK9 1LZ
12 weeks
Thursdays 22 Oct - 21 Jan (exc 24 & 31 Dec)
5.30pm - 6.25pm (NETS ONLY)
U11 - U13 Yr 8 & below
£98
Wilmslow High School SK9 1LZ
12 weeks
Thursdays 22 Oct - 21 Jan (exc 24 & 31 Dec)
6.30pm - 7.25pm (NETS ONLY)
U11 - U13 Yr 8 & below
£98
Wilmslow High School SK9 1LZ
12 weeks
Thursdays 22 Oct - 21 Jan (exc 24 & 31 Dec)
7.35pm - 8.30pm (NETS ONLY)
U14 - U18 Yr 9 & above
£98
Wilmslow High School SK9 1LZ
12 weeks
Thursdays 22 Oct - 21 Jan (exc 24 & 31 Dec)
8.35pm - 9.30pm (NETS ONLY)
U14 - U18 Yr 9 & above
£98
Wilmslow High School SK9 1LZ
12 weeks
Fridays 23 Oct - 22 Jan (exc 25 Dec & 1 Jan)
6pm - 7.55pm
U11 - U13 Yr 8 & below
£176
Wilmslow High School SK9 1LZ
12 weeks
Fridays 23 Oct - 22 Jan (exc 25 Dec & 1 Jan)
8.05pm - 10pm
U14 - U18 Yr 9 & above
£176
Wilmslow High School SK9 1LZ
12 weeks
Saturdays 24 Oct - 16 Jan (exc 26 Dec)
1pm - 2.55pm
U11 - U13 Yr 8 & below
£176
Wilmslow High School SK9 1LZ
12 weeks
Saturdays 24 Oct - 16 Jan (exc 26 Dec)
3.05pm - 4.55pm
U11 - U13 Yr 8 & below
£176
Wilmslow High School SK9 1LZ
12 weeks
Saturdays 24 Oct - 16 Jan (exc 26 Dec)
5.05pm - 7pm
U11 - U13 Yr 8 & below
£176
Wilmslow High School SK9 1LZ
12 weeks
Sundays 25 Oct - 17 Jan (exc 27 Dec)
10am - 11.50am
GIRLS U11 - U13 Yr 8 & below
£176
Wilmslow High School SK9 1LZ
12 weeks
Sundays 25 Oct - 17 Jan (exc 27 Dec)
12pm - 1.55pm
GIRLS U14 - U18 Yr 9 & above
£176
Wilmslow High School SK9 1LZ
12 weeks
Sundays 25 Oct - 17 Jan (exc 27 Dec)
2.05pm - 3.55pm
U11 - U13 Yr 8 & below
£176
Wilmslow High School SK9 1LZ
12 weeks
Sundays 25 Oct - 17 Jan (exc 27 Dec)
4.05pm - 5pm (NETS ONLY)
U11 - U13 Yr 8 & below
£98
Wilmslow High School SK9 1LZ
12 weeks
Sundays 25 Oct - 17 Jan (exc 27 Dec)
5.05pm - 6pm (NETS ONLY)
U11 - U13 Yr 8 & below
£98
Wilmslow High School SK9 1LZ
12 weeks
Sundays 25 Oct - 17 Jan (exc 27 Dec)
6.05pm - 7pm (NETS ONLY)
U14 - U18 Yr 9 & above
£98
Wilmslow High School SK9 1LZ
12 weeks
Sundays 25 Oct - 17 Jan (exc 27 Dec)
7.05pm - 8pm (NETS ONLY)
U14 - U18 Yr 9 & above
£98
King's School Macclesfield Cricket Centre SK10 4SP
11 weeks
Tuesdays 13 Oct - 22 Dec
6pm - 6.55pm (NETS ONLY)
U11 - U13 Yr 8 & below
£98
King's School Macclesfield Cricket Centre SK10 4SP
11 weeks
Tuesdays 13 Oct - 22 Dec
7pm - 7.55pm (NETS ONLY)
U11 - U13 Yr 8 & below
£98
King's School Macclesfield Cricket Centre SK10 4SP
11 weeks
Tuesdays 13 Oct - 22 Dec
8pm - 8.55pm (NETS ONLY)
U12 - U18 Yr 7 & above
£98
King's School Macclesfield Cricket Centre SK10 4SP
11 weeks
Tuesdays 13 Oct - 22 Dec
9pm - 9.55pm (NETS ONLY)
U14 - U18 Yr 9 & above
£98
King's School Macclesfield Sports Hall SK10 4SP
12 weeks
Wednesdays 28 Oct - 20 Jan (exc 30 Dec)
6pm - 7.55pm
U11 - U13 Yr 8 & below
£176
King's School Macclesfield Sports Hall SK10 4SP
12 weeks
Wednesdays 28 Oct - 20 Jan (exc 30 Dec)
8.05pm - 9.55pm
U14 - U18 Yr 9 & above
£176
King's School Macclesfield Sports Hall SK10 4SP
12 weeks
Wednesdays 28 Oct - 20 Jan (exc 30 Dec)
6pm - 6.55pm (NETS ONLY)
U11 - U13 Yr 8 & below
£98
King's School Macclesfield Sports Hall SK10 4SP
12 weeks
Wednesdays 28 Oct - 20 Jan (exc 30 Dec)
7pm - 7.55pm (NETS ONLY)
U11 - U13 Yr 8 & below
£98
King's School Macclesfield Sports Hall SK10 4SP
12 weeks
Wednesdays 28 Oct - 20 Jan (exc 30 Dec)
8pm - 8.55pm (NETS ONLY)
U12 - U18 Yr 7 & above
£98
WEST CHESHIRE
Queens Park High School, Chester CH4 7AE
12 weeks
Fridays 23 Oct - 22 Jan (exc 25 Dec & 1 Jan)
5.30pm - 7.25pm
U11 - U13 Yr 8 & below
£176
Queens Park High School, Chester CH4 7AE
12 weeks
Fridays 23 Oct - 22 Jan (exc 25 Dec & 1 Jan)
7.35pm - 9.30pm
U14 - U18 Yr 9 & above
£176
Queens Park High School, Chester CH4 7AE
12 weeks
Sundays 25 Oct - 17 Jan (exc 27 Dec)
1pm - 2.55pm
U11 - U13 Yr 8 & below
£176
Queens Park High School, Chester CH4 7AE
12 weeks
Sundays 25 Oct - 17 Jan (exc 27 Dec)
3.05pm - 5pm
U11 - U13 Yr 8 & below
£176
STOCKPORT
WIRRAL
Birkenhead School CH43 2JD
12 weeks
Mondays 19 Oct - 18 Jan (exc 21 & 28 Dec)
5.30pm - 7.25pm
U11 - U13 Yr 8 & below
£176
Birkenhead School CH43 2JD
12 weeks
Mondays 19 Oct - 18 Jan (exc 21 & 28 Dec)
7.35pm - 9.30pm
U14 - U18 Yr 9 & above
£176
Birkenhead School CH43 2JD
12 weeks
Wednesdays 21 Oct - 20 Jan (exc 23 & 30 Dec)
5.30pm - 6.25pm (NETS ONLY)
U11 - U13 Yr 8 & below
£98
Birkenhead School CH43 2JD
12 weeks
Wednesdays 21 Oct - 20 Jan (exc 23 & 30 Dec)
6.30pm - 7.25pm (NETS ONLY)
U11 - U13 Yr 8 & below
£98
Birkenhead School CH43 2JD
12 weeks
Wednesdays 21 Oct - 20 Jan (exc 23 & 30 Dec)
7.30pm - 8.25pm (NETS ONLY)
U14 - U18 Yr 9 & above
£98
Birkenhead School CH43 2JD
12 weeks
Wednesdays 21 Oct - 20 Jan (exc 23 & 30 Dec)
8.35pm - 9.30pm (NETS ONLY)
U14 - U18 Yr 9 & above
£98